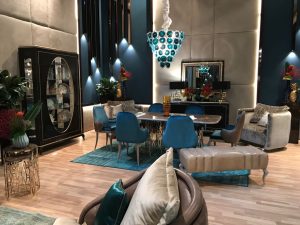 Morello Gianpaolo furnishes the most elegant homes with baroque furniture made in Italy. We realize personalized designs and transform the highest quality raw materials into unique, harmonious spaces, beautiful to look at and to live in.
We are a luxury interior and furniture design firm established in 1970, near Padua in Italy, an area well-known for manufacturing quality and unique pieces of furniture. Our artisans use modern and traditional wood carving techniques in order to create the perfect combination of shapes, colors, and fabrics. Fabrics, brocade, leather, gold, Swarovski, and decorative fabrics chosen from the best European fairs and the latest collections of the most popular weaves compose our selection of materials we use to tailor furniture for clients from all around the world. All pieces of furniture created by Morello Gianpaolo can be customized as a unique pieces. The customer can choose the combination of frame finishes and fabric for each individual piece, adapting it to their lifestyle and need.
The completely hand-crafted workmanship and years of experience are characteristics that differentiate our furniture from mass production, since luxury Italian-styled furniture, innovation, and sophisticated materials, have always been for us the Made in Italy to export worldwide.
In terms of care and quality control, special attention is dedicated to each product in order to satisfy even the most attentive customer. This is why we monitor each piece of furniture carefully from the first stages of production, providing customers with quality services and attentiveness.