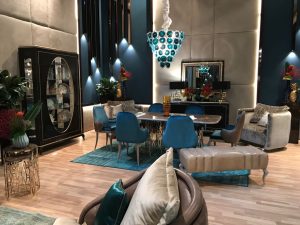 Baroque is a style that was born in Italy in the 17th century and filled the houses of people from all over the world with unprecedented luxury, elegance, and intricacy. Morello Gianpaolo is an Italian company specializing in realizing baroque sofas and chairs, dormouse, tables, sitting rooms, and parlors.
The interior of the Baroque style becomes more and more popular from day to day. Baroque décor seeks pomp and demonstrative grandeur with its luxurious linens (brocade, silk, velvet), rich finishing, and furniture, which would be decorated with exquisite carvings covered with gold or bronze, precious wood veneers, trimmed with mosaic, and valuable metal. The baroque sofas and chairs realized by Morello Gianpaolo have a presentable and expensive look and are characterized by fabric upholstery, curved legs, sophisticated carvings, lacquering, and gilding. Baroque is also characterized by such furniture as ottoman chairs, cupboards, chests of drawers, and double closets.
Baroque is intended to emphasize the richness and elegance of the interior environment, and if you want to show off your style and adopt the baroque style, Morello Gianpaolo is the best option to manufacture furniture that reflects your personality and style. All our products are entirely handcrafted in Italy and are made by using only the best quality of wood and fabrics were chosen from the best European fairs and the latest collections of the most popular weaves.
Over the years Morello Gianpaolo has become synonymous with quality and exclusiveness, a leader company in the international furniture industry, retaining the character of tradition and the character of hand-crafted furniture.